Army Medical College Bogura  MBBS Admission
Army Medical College Bogura (AMCB) has started its journey on 28 Sep, 2014 after getting necessary approval from Government.
Within a time span of 3 and a ½ months the present infrastructural development was completed and the inauguration ceremony was held on 10 Jan 2015 along with four other Army Medical Colleges and begun its academic year 2014-2015 with the active inspiration of Honorable Prime Minister Sheikh Hasina, the then Chief of Staff Bangladesh Army Gen Iqbal Karim Bhuiyan, Maj Gen AKM Abdullahil Baquee, ndu, psc, Area Commander Bogra Area, Chairman, Governing Body of Army Medical College Bogra and all the Doctors and Staffs working in Army Medical College Bogra.
On 11 Jan 2015 the college started conducting the class of 2014-2015 session with 50 students.
Army Medical College Bogura is a private Medical College under the control of Bangladesh Army and is run by a Governing Body, duly formed by the representative of Bangladesh Army, representative from Ministry of Health and Family affairs, representative from Bangladesh University of Professionals (BUP) and local members in health sector of Bangladesh government.
Army Medical College Bogura (AMCB) is a Military medical college, established in 2014. It is located in Bogra Cantonment, Bangladesh. It is affiliated with Bangladesh University of Professionals.Academic activities began on 10 January 2015 with 50 students along with 4 Army Medical Colleges (Chittagong, Rangpur, Cumilla & Jessore). In 2018 it has 200 MBBS students (4th Batch running).
It offers a five-year course of study leading to a Bachelor of Medicine, Bachelor of Surgery (MBBS) degree. A one-year internship after graduation is compulsory for all graduates. The degree is recognised by the Bangladesh Medical and Dental Council.
Location
The  Army Medical College Bogura is located at Bogura Cantonment beside Dhaka Bogura highway. Combined Military Hospital (CMH) Bogra is affiliated with Army Medical College Bogra for the purpose of clinical training.
It is a 367 bedded hospital which is adjacent to the college, where the students get the necessary clinical training. This college is currently running its academic activities in 4 storied building inside cantonment and a floor of CMH Bogura.
The permanent campus is under construction at C-Block adjacent to Bogura Cantonment. Up to 3rd floor of academic building & 5th floor of hostel building construction are planned to be completed within June 2021. AMCB is a residential institution. It is compulsory for medical students to stay in dormitories of the college. There are separate dormitories for male and female students adjacent to academic campus.
Army Medical College Bogura Details
| | |
| --- | --- |
| Category | Details |
| College Name | Army Medical College Bogura |
| Short Name | AMCB |
| Type | Public |
| Established | 2014 |
| Affiliated | Bangladesh University of Professionals |
| Location | Bogra , Bangladesh |
| MCI Approved | – |
| Courses Offered | MBBS |
| Exam Acceptance | NEET, Bangladesh University of Professionals Entrance Exam |
Affiliations
Army Medical College Bogura is affiliated to the Bangladesh University of Professionals (BUP).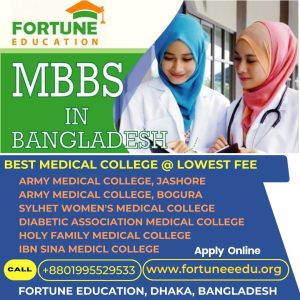 DEPARTMENT
ANATOMY

PHYSIOLOGY

BIOCHEMISTRY

COMMUNITY MEDICINE

FORENSIC MEDICINE

PATHOLOGY

PHARMACOLOGY

MICROBIOLOGY

MEDICINE

SURGERY

GYNECOLOGY & OBSTETRICS
Advantages
Located in Bangladesh, the Army Medical College Bogura has a modernised hostel lodging. There are separate hostels for boys and girls.
There are sufficient hostel rooms for all the students who are pursuing graduation in this renowned institute . Currently, the hostel can provide lodging And fooding to all the students. There is also a separate hall for the dining area. There are common rooms with TV.
The environment is safe and secure for the students. In the event of medical needs, all the students are provided the same at the facility. There are arrangements of outdoor and indoor games for all-round personality and temperament development of the medical students.
Treatment/Medical
Army Medical College Bogura has a MI room in medical college. Students get free treatment from here. In case of difficult cases they are referred to CMH, Bogra.
Playground
A playground of 11 Div infantry has been authorized for games period. All student of AMCB regularly play games (Cricket, Football, Handball, Badminton etc) in this playground.
Common Room
There is a spacious common room for students available in the Academic Building.
Accommodation
AMCB is a residential institution. It is compulsory for medical students to stay in dormitories of the college. There are separate dormitories for male and female students adjacent to academic campus.
The cadets must follow all rules and regulations regarding customs and etiquette, decorum and decency of the dormitory framed from time to time by the college authority. Visiting hours as per SOP (Standing Operating Procedures) are strictly adhered to. In case of female cadets, only notified selected visitors, mainly their parents/guardian are allowed in prescribed hours.
Aim
The College follows the course curriculum of MBBS course as laid down by Bangladesh University of Professional (BUP) and Bangladesh Medical and Dental Council (BM&DC). BUP conducts the professional examination and certificate of MBBS degree are awarded by them
Objective
Health for all and sustainable quality of life for the people of Bangladesh is the national commitment. To fulfill the commitment we aim to produce skillful, caring, confident, devoted and high quality medical professionals. With this noble ideology Army Medical College Bogra (AMCB) was founded by Bangladesh Army.
Fortune Education is the exclusive authorized Representative for Army Medical College Bogura. Processing direct admission with one-stop services.Contact: Mobile & WhatsApp: +8801995529533, India: +91-9903355537
MBBS in Bangladesh Eligibility Criteria for International Students
To be eligible for MBBS admission in Bangladesh, international students must fulfill the following criteria:
The applicant must be at least 17 years old at the time of admission.
The applicant must have completed 12 years of schooling, with a minimum aggregate score of 60% in Biology, Chemistry, and Physics.
The applicant must have a valid passport and meet the necessary visa requirements.
MBBS in Bangladesh Admission Process
The admission process for MBBS in Bangladesh involves the following steps:
Research and shortlist medical colleges in Bangladesh.
Prepare the necessary documents, such as academic records, passport, photographs, and a medical fitness certificate.
Submit your application and required documents to the selected college(s) within the specified deadline.
Apply for a student visa at the Bangladeshi Embassy in your home country.
Confirm your admission and make the necessary fee payment.
Arrive in Bangladesh and join the college.
MBBS Admission under SAARC Quota 2023-24
Students from SAARC countries can apply for MBBS admission under the SAARC quota, which offers a limited number of seats in Bangladeshi medical colleges. To be eligible for the SAARC quota, the applicant must meet the eligibility criteria and submit a sponsorship letter from their respective government.
Requirements of MBBS admission in Bangladesh-2023
To secure MBBS admission in Bangladesh, applicants must fulfill the following requirements:
Meet the eligibility criteria mentioned above.
Provide proof of financial stability for the entire duration of the course.
Obtain a No Objection Certificate (NOC) from their home country's Medical Council or equivalent authority.
Pass the Medical College Admission Test (MCAT) conducted by the respective college(s).
Why study MBBS in Bangladesh?
Bangladesh offers numerous benefits to international students seeking a medical degree, such as:
Affordable education: Compared to other countries, the cost of pursuing an MBBS degree in Bangladesh is relatively low.
Quality education: Bangladeshi medical colleges provide high-quality education, with a curriculum that follows international standards.
Global recognition: MBBS degrees obtained from Bangladesh are recognized by the World Health Organization (WHO), the Medical Council of India (MCI), and other medical councils worldwide.
English-medium instruction: MBBS courses in Bangladesh are taught in English, making it easier for international students to adapt.
Cultural similarities: For students from neighboring countries, Bangladesh offers a familiar cultural environment, which helps in adjusting to life in a new country.
Advantages and Disadvantages of studying MBBS in Bangladesh
Advantages:
Low tuition fees and affordable living expenses.
High-quality education with a globally recognized degree.
English-medium instruction.
Cultural similarities with neighboring countries.
Availability of Indian food in hostels.
Disadvantages:
Limited seats for international students.
Language barrier while interacting with local patients during the internship.
Fewer recreational activities and a conservative social environment.
Syllabus of MBBS in Bangladesh
The MBBS syllabus in Bangladesh is divided into five academic years, with a focus on both theoretical and practical aspects of medical education. The syllabus covers subjects such as Anatomy, Physiology, Biochemistry, Pathology, Pharmacology, Microbiology, Forensic Medicine, and Community Medicine, among others.
Quality of Education of MBBS in Bangladesh
Bangladesh offers high-quality medical education, with an emphasis on both theoretical knowledge and practical skills. Medical colleges in Bangladesh are well-equipped with modern facilities, experienced faculty, and a strong focus on research.
MCI Passing Percentage of MBBS degree holders from Bangladesh
Bangladeshi medical graduates have consistently performed well in the MCI screening test, with a passing percentage of around 30-35%. This is a testament to the quality of medical education provided by Bangladeshi institutions.
Top 5 Medical Colleges in Bangladesh
Army Medical College Jashore
Army Medical College Bogura
Sylhet Women's Medical College
Diabetic Association Medical College
Popular Medical College
Medical College for Women's and Hospital
International Medical College
Ahsania Mission Medical College
MBBS in Bangladesh Affiliation and Recognition
Medical colleges in Bangladesh are affiliated with various reputed universities and are recognized by the Bangladesh Medical and Dental Council (BMDC), World Health Organization (WHO), Medical Council of India (MCI), and other international medical councils.
Army Medical College Bogura and Army Medical College Jashore
These two prestigious medical colleges in Bangladesh are operated by the Bangladesh Army and offer excellent medical education to both local and international students. They are known for their modern infrastructure, experienced faculty, and a disciplined learning environment.
Experience Exceptional Facilities at Army Medical College Bogura"
Advantages of Studying MBBS at the Largest Green Campus in Bangladesh"
Army Medical College Bogura (AMCB), students enjoy world-class facilities designed to support their medical education and overall well-being. The college's state-of-the-art infrastructure and comprehensive amenities ensure a comfortable and conducive learning environment. Explore the exceptional facilities at AMCB and why it stands out as a top choice for your MBBS studies.
Army Medical College Bogura, MBBS, facilities, green campus, hostel, clinical practice, Combined Military Hospital, Government Hospital, affordable fees, installment facility.
Largest Green Campus
AMCB boasts the largest green campus in Bangladesh, providing students with a serene and eco-friendly environment. The lush, green surroundings offer a peaceful atmosphere, promoting better focus and concentration during studies. This tranquil setting creates a perfect balance between academic rigor and relaxation, enhancing the overall student experience.
In-Campus Hostel with Twin Sharing AC Rooms
Accommodation is a top priority for students, and AMCB delivers in this regard. The college offers modern in-campus hostels featuring twin sharing rooms with air conditioning. These comfortable living spaces ensure students have a pleasant and secure environment to rest and recharge after a day of rigorous studies.
Clinical Practice at Combined Military Hospital (CMH) and Government Hospital
AMCB students benefit from practical clinical exposure at two prestigious institutions: the largest Combined Military Hospital (CMH) and the Government Hospital in Bogura. This hands-on experience enables students to apply their theoretical knowledge in real-world situations, honing their skills and preparing them for successful medical careers.
Affordable Fees and 5-Year Instalment Facility
Army Medical College Bogura offers an affordable fee structure, ensuring that students receive quality education without financial burden. To further ease financial concerns, the college provides a 5-year installment facility that covers various expenses, including:
Food and Messing
Accommodation
Laundry
Study Tours
Games
Outfits
Local Transportation
This comprehensive fee plan allows students to focus on their studies without the stress of financial constraints.
With its exceptional facilities, Army Medical College Bogura sets a high standard for medical education in Bangladesh. From its picturesque green campus to comprehensive amenities and practical clinical exposure, AMCB offers a truly enriching experience for aspiring medical professionals. Secure your MBBS seat at AMCB today by visiting Fortune Education's websites at www.fortuneedu.org, www.fortuneeducationbd.com
Scope after MBBS from Bangladesh
After completing an MBBS degree from Bangladesh, graduates can pursue further specialization, work as medical professionals in their home countries, or explore job opportunities in Bangladesh or other countries. The MBBS degree obtained from Bangladesh is recognized worldwide, allowing graduates to practice medicine in various countries after clearing the necessary licensing examinations.
MBBS Bangladesh Career Options or What to do After MBBS in Bangladesh?
Pursue postgraduate studies in specialized fields.
Work as a medical professional in their home country or abroad.
Pursue a career in medical research, teaching, or administration.
Start a private practice or work in a hospital or healthcare institution.
About Bangladesh
Bangladesh is a South Asian country known for its rich history, vibrant culture, and warm hospitality. The country offers a diverse landscape, ranging from lush greenery to bustling cities. Bangladesh is committed to providing quality education to its citizens and international students, with a strong emphasis on medical education.
FAQs about Studying in Bangladesh
The FAQs section will cover common questions related to studying MBBS in Bangladesh, such as admission process, eligibility criteria, living expenses, and more.
Contact Information
For any further query, feel free to contact our experienced consultants who will guide you and help you secure admission to your desired medical college in Bangladesh. You can fill out the inquiry form on our website or call us at +919903355537 to book your seat. Visit https://mbbsbd.com/ for more information.
Frequently ask Question.
How do I get an admission in Army Medical College Bogura?
If you are looking for direct admission Army Medical College Bogra, Bright Educational Service is the right place for you which have India's topmost direct admission consultants and where we give 100% assurance of admissions in India as well as admissions abroad.
Which are the entrance exams accepted by Army Medical College Bogura?
Army Medical College Bogura will accept the entrance exam scores of NEET UG, NEET PG for admission.
How is the atmosphere there in Army Medical College Bogura campus?
The Army Medical College Bogura college atmosphere is good. Which is offering the great infrastructure to the students for healthy physical and mental growth.
Does the Army Medical College Bogra college have hostel facility?
Yes, Army Medical College Bogra has separate hostel facility for both boys and girls. It is situated in inside a campus.
How is Army Medical College Bogura? Is it a good college?
As per collage standards, no doubt there are better colleges than Army Medical College Bogura, which say provide better campus recruitment, better quality education and better college campus, better environment, etc.
Fortune Education, Dhaka, Bangladesh is World Leading & Pioneer Education Consultant of Medical Colleges & Universities. Providing MBBS, BDS, BVSc admission for medical aspirants & prospective students who are interested to study MBBS, BDS, BVSc and considering higher study opportunities in Bangladesh and overseas.Fortune Education has legal rights to process admission to Medical, Dental colleges and universities all over the world. We offer MBBS, BDS & others Admission, Application, Guidance, Documentation, and required services such as to eligible students regarding medical and higher studies…Fortune Education invites students to register for MBBS & BDS admission with a special Scholarship for the academic year 2022-23.
Fortune Education, as a recognized medical admission consultant, offers online direct MBBS admissions in reputed medical colleges abroad. With their expertise, extensive network, and comprehensive support services, they assist students in fulfilling their dreams of studying medicine and embarking on a successful medical career.

Head Office:
23/C, Zigatola, Dhaka, Bangladesh.
Mobile & WhatsApp: +88-01995529533
Offices in India: Delhi, Tamil Nadu, Assam, Jammu & Kashmir
Mobile & WhatsApp: +91-9903355537
www.fortuneedu.org