WELCOME TO FORTUNE EDUCATION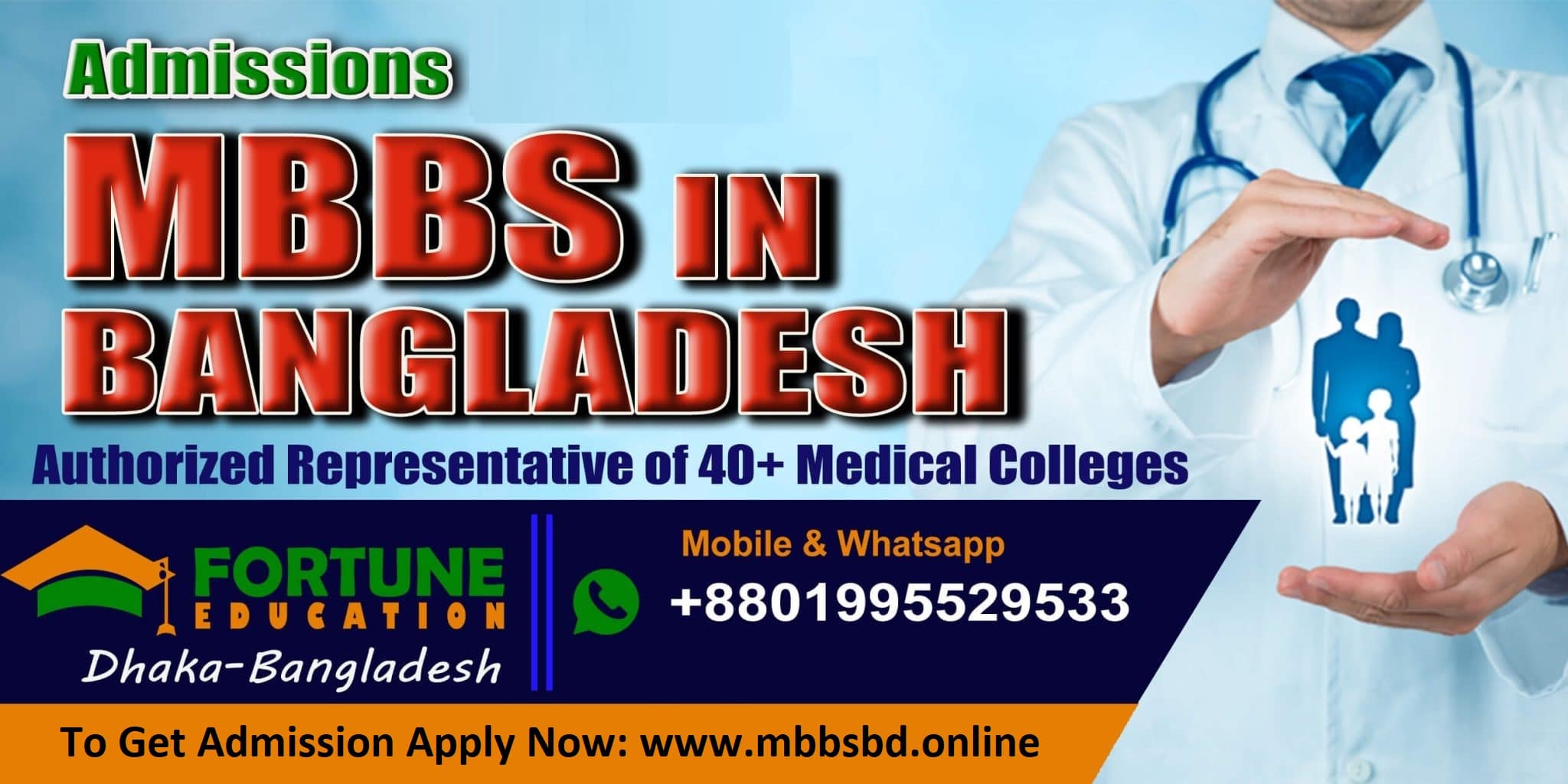 Online Education Fair "2023-24"
Get Up-to 10,000 USD Scholarship on Govt & Private Medical Colleges in Bangladesh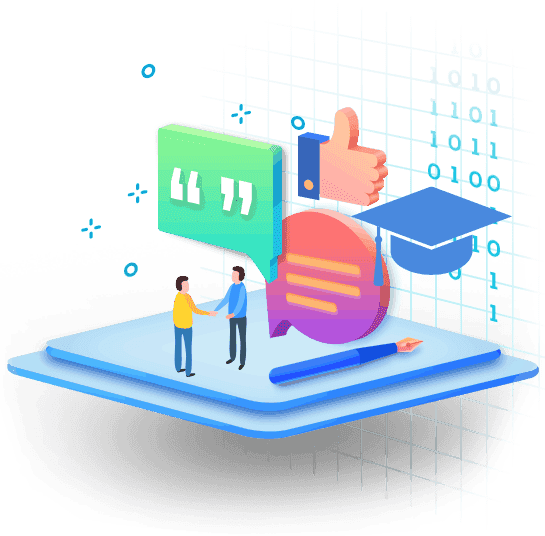 Online

Direct

MBBS Admission In Bangladesh
Fortune Education Provides On-Spot MBBS Admission in MCI & BMDC Recognized "A" Class Medical Colleges. MBBS Admission in Bangladesh. 100% Seat Confirmation at Affordable Fees with Five Years Instalment Facility and No Hidden Charges. All Payments to be Transferred to College Accounts.
Biggest Advantaged of MBBS from Bangladesh is Syllabus, Books, Curriculum, Study Pattern, Environment, Culture, Language, Climate, Food, Festivals in Here is Same as India, Pakistan, Nepal, Sri Lanka and Other South-East Asian Countries. Also in India, Cost of Getting an MBBS Degree from Any Private Medical College With Decent Infrastructure is no Less Than 50,00,000 Rupee Many Times it Crosses Even a Crore Depending on Which College or Which Part of the Country You Select. This is Just donation Fee, Regular Tuition Fee Would be Charged on Top of That Before Every Semester or Every Year.
MBBS Fee Package Starts From 22 – 30 Lacs For Complete 5 years MCI Approved Medical Colleges in Bangladesh. Fortune Education Also Offers MBBS Admission with Special Scholarships up to 10,000 USD on Private Medical Colleges Under Various Medical Universities in Bangladesh for the Academic Year 2022-23.
MBBS Scholarship Offers on Private Medical College 2023-24
Fortune Education offers MBBS Admission with special scholarship up to 10,000 USD on private medical colleges under various medical universities in Bangladesh for the academic year 2022-23.
Fortune Education, Dhaka, Bangladesh, established in 2004, is the Pioneer & World Leading Education Consultant. And, an authorized representative of Medical, Dental college and universities all over the world.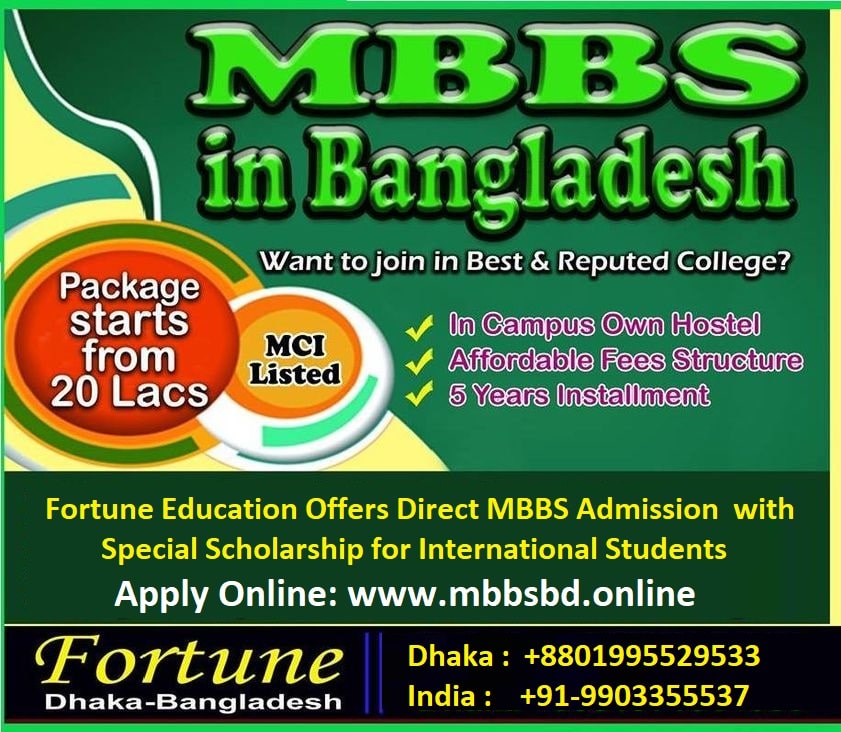 Obtaining an MBBS from abroad is extremely popular in India. Among so many other destinations, MBBS in Bangladesh is becoming a trend among Indian students aspiring for an MBBS from abroad. MBBS in Bangladesh is undoubtedly the best choice for students considering an international medical career ahead. Studying MBBS in Bangladesh will not dig deep in your pocket and isn't costly compared to other destinations. Considering the striking similarity in culture, food habits, and climate, students will feel as if they are studying MBBS in India. There are so many other reasons that make Bangladesh the most desired destination. Moreover, acquiring admission for an MBBS in Bangladesh is simpler compared to other destinations. Top Government Medical Universities in Bangladesh offer world-class premium quality medical education empowered with highly professional faculties. The MBBS in Bangladesh has a syllabus and study pattern that are comparable to the top-quality health education all over the world. Not only from India but also from Nepal, Gulf Countries, Sri Lanka, Maldives, Bhutan, etc, Bangladesh has shown an impeccable improvement in the quality of education in the recent decade.
How do I get visa for Me & My parents/Guardian?
What is the eligibility to Study MBBS in Bangladesh session 2023?
To study in Bangladesh you have to meet the NMC eligibility which is 60% in Physics, Chemistry, and Biology average, and pass in English in Class 12 and minimum of 17 years of age on January 30 of the year of Admission. Visit Here: ELIGIBILITY OF MBBS ADMISSION IN BANGLADESH
How do I apply online to study MBBS in Bangladesh?
Fortune Education Offer Direct MBBS admission on top Privet Medical Colleges With Special Scholarship. For  Apply Online Clink Here  Or You Can Contact Us on  Mobile & WhatsApp: +8801995529533, India: +91-9903355537
Frequently Asked Questions About MBBS in Bangladesh
Will my Degree be recognized in India and overseas?
Yes. The degree is recognized by the NMC/MCI in India All state medical councils and by all other countries overseas. Each country has a process for recognizing a foreign medical degree.
Where can I do my internship?
 You can do your internship in India or in Bangladesh. After clearing your FMGE (MCI Screening Test) you can apply for a one-year internship in any Govt. or Private Medical institute in India. You'll get a stipend during your internship in Bangladesh.
Fees for the Medical College have to be payable in US$ thru Forex T.T. Ask your local Forex enable bank. You Must have a valid Indian passport and college invitation letters to pay college fees. All transactions thru parents/guardian's bank to college account. Visit Here MBBS in Bangladesh Fees Structure