Study Medicine in Bangladesh 2023-24
Choosing where to pursue an MBBS degree is a decision that carries lifelong implications. Weighing affordability, quality of education, and cultural compatibility are crucial factors. Fortunately, Bangladesh ticks all these boxes and more, making it a top destination for medical education. For Indian students particularly, an MBBS in Bangladesh is an excellent choice for a myriad of reasons.
Why Choose Bangladesh for Your Medical Studies?
Language
One of the key concerns for international students planning to study abroad is language. In Bangladesh, however, you'll find an environment that's both welcoming and familiar. The medium of instruction in most Bangladeshi universities is English, a major advantage for Indian students.
Cost-Effectiveness
When compared to many study abroad destinations, an MBBS degree in Bangladesh is notably affordable. The total cost, including tuition fees and living expenses, is considerably lower, providing excellent value for your investment.
Currency
A noteworthy advantage of studying in Bangladesh is the depreciated value of the Bangladeshi Taka. This currency depreciation means your budget will stretch further, allowing you to fully immerse yourself in the local culture, food, and breathtaking landscapes.
Cuisine
Food in Bangladesh closely mirrors Indian cuisine, making it an easy transition for Indian students. You can also find Indian restaurants throughout the country, satisfying any cravings for home.
Travel Costs
Being a neighboring country, the travel expenses to Bangladesh are minimal. With multiple transportation options including affordable flights and regular train services, Bangladesh is both accessible and budget-friendly.
Global Recognition
Medical degrees from Bangladesh enjoy worldwide recognition. Their graduates are respected for their competence and skills, further highlighting why an MBBS from Bangladesh is an exceptional choice.
Course Structure and Curriculum
Medical education in Bangladesh is organized into four phases, spanning five years:
| Phase | Duration | Subjects |
| --- | --- | --- |
| First | 1.5 years | Anatomy, Biochemistry, etc. |
| Second | 1 year | Community Medicine and Forensic Medicine |
| Third | 1 year | Pharmacology Therapeutics, Pathology, Microbiology, etc. |
| Fourth | 1.5 years | Medicine, Surgery, Obstetrics and allied courses |
MBBS Fee Structure
The affordability of medical education in Bangladesh is one of its prime attractions. The total cost, including food and accommodation, stands at around 40 lakhs. However, costs may fluctuate depending on your chosen university and lifestyle.
Top Medical Colleges in Bangladesh
Each of these institutions offers world-class medical education and infrastructure. Visit www.mbbsbd.online for detailed information about each university and their admission processes.
Leading Medical Colleges in Bangladesh
Explore your potential in the field of medicine by studying in one of these renowned medical colleges in Bangladesh: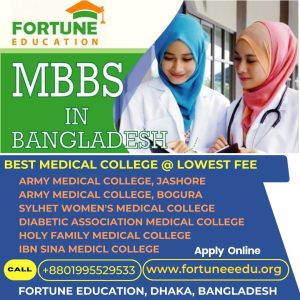 Army Medical College Bogura
Army Medical College Jashore
Brahmanbaria Medical College
Sylhet Women's Medical College
Diabetic Association Medical College
IBN SINA Medical College
Holy Family Red Crescent Medical College
Diabetic Association Medical College
Popular Medical College
Marine City Medical College
This list is far from exhaustive; there are many other high-quality medical colleges in Bangladesh worth considering. Be sure to conduct thorough research and comparisons among colleges, considering aspects like course content, faculty quality, infrastructure, and post-graduation opportunities before finalizing your choice.
Foreign Students Admission at Army Medical College Bogura (AMCB)
We are pleased to announce that Army Medical College Bogura (AMCB) is accepting applications from foreign students who meet the Bangladesh government's criteria for the upcoming academic year 2022-2023.
If you are interested, please contact the authorized representative of Army Medical College Bogura, Fortune Education & Fortune Healthcare Ltd. They will guide you through the necessary processes, including attestation, obtaining eligibility certificates, visa assistance, documentation, airport pick-up, and college drop-off services:
Fortune Education & Fortune Healthcare Ltd. Head Office: 23/C, Zigatola, Dhaka-1209, Bangladesh Bangladesh: +8801995529533 India: +919903355537 Email: fortunebangladesh@gmail.com Website: www.fortuneedu.org 
Don't miss this opportunity to study medicine in one of Bangladesh's prestigious medical colleges. Start your journey today with the assistance of Fortune Education.
Eligibility Criteria and Application Process
To pursue an MBBS in Bangladesh, candidates must meet specific eligibility criteria, including a minimum CGPA in SSC and in 12th, particularly in Biology. The application process is simple and straightforward. Visit your chosen university's website, fill out the application form, wait for an offer letter, pay the fees, apply for the visa, and prepare for your journey!
The Advantages of an MBBS in Bangladesh
Studying medicine in Bangladesh has numerous benefits:
No donation or capitation fees required for admission.
Excellent infrastructure, education, and accommodation.
No entrance test for admission, simplifying the application process.
State-of-the-art hospitals equipped with modern technology.
SAARC nation students are exempted from extra tuition fees in medical colleges.
In essence, an MBBS in Bangladesh promises a high-quality education at an affordable cost, making it a wise choice for medical aspirants. But embarking on this journey might be daunting. Therefore, reach out to Fortune Education, an authorized consultant for Medical Colleges in Bangladesh. Visit www.fortuneeducationconsultancy.com for expert guidance and comprehensive details about studying medicine in Bangladesh.